Wallpaper
The Wallpaper is an image that replaces the Nine Digital Network background on the page and allows advertisers to brand the page with their messaging. It can be setup to be either clickable or non-clickable.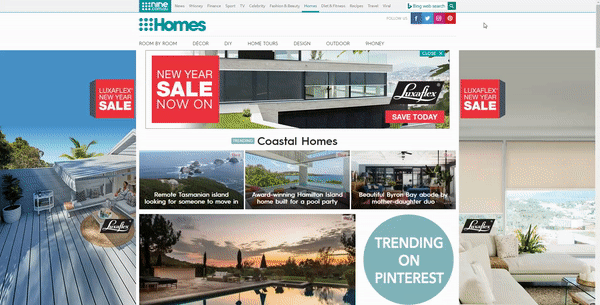 The Wallpaper can be combined with a Billboard to create a Fireplace.
Nine Digital Served Specs
Required element: Wallpaper image file
Dimensions: 1900×1000 (with a 1030px wide non visible space in the middle*)
Format: JPG/PNG/GIF
Image max file size: 200kb
*Wallpapers running on WWOS must use colour code #F7F7F7 for 1030px blank space. This requires separate creative if running across multiple Nine sites.
Third Party Served Specs
Accepted 3rd Parties: Sizmek
Dimensions: 1900×1000 (with a 1030px wide non visible space in the middle*)
Accepted Format: JPG/PNG/GIF/SVG & HTML5, CSS2-CSS3, Javascript
Max initial file size: 200kb (Image, HTML5, JS, CSS, Sprite sheets) + 70kb (Ad Verification Scripts) + 100kb (Cached/Approved Shared Libraries located here)
Max subload: 2mb
Max user-initiated animation/video/sound file size: N/A
Animation Duration: 30 seconds max, 15s recommended
Video Frame Rate: N/A
SSL Requirements: All assets must be SSL compliant – securely served (https://)
*Wallpapers running on WWOS must use colour code #F7F7F7 for 1030px blank space. This requires separate creative if running across multiple Nine sites.
Build Information
If Nine Digital Network served, please provide raw gif/jpeg files. No animated gifs allowed.
If 3rd party ad-served the side panels must be built to the technical specifications of the 3rd party (list of supported vendors in table above). They should be built to launch from a 1×1 ad call (both the left and right panels expand simultaneously from this) or can expand from an MREC on the page. Please contact the vendor for more detail on these specifications.
Animation (3rd party served only) in the side panels is allowed, and can only play once with no looping. Flashing, blinking or excessive animations will not be approved. If animation is activated by hovering then it needs to end when the mouse is moved off the animation/ad.
The side panels should have a solid background colour and fade to transparent at the bottom and sides. All transparent areas should not be clickable.
Key messaging should presented in the top right 125×600 of the left panel and top left 125×600 of the right panel. This is to ensure that core elements of the ad are not cut off on smaller screens. See this example as a visual guide.
Advertiser logos must be positioned beneath the site logo (approximately 200 pixels from the top of the panels). A maximum logo size of 130px x 40px will be permitted.
No text or images to be placed within 95px from the top of the panel.
Maximum one product graphic and one price point and/or product message is permitted per panel (three elements max per panel). Additional price points and promo text to be housed within the 300×250.
Messaging elements must not be repeated across both panels.
For Network Home side panels please note that content from the MREC should not bleed/flow directly into the side panel as they will not sit flush on this page, there is a 25px white margin between the MREC and right side panel.
The side panels should have a single background colour or single photographic image and we request low intensity / muted colour for maximum engagement.
Format Availability
| | | |
| --- | --- | --- |
| Areas | Approved to run | Notes |
| Nine O&O homepages | Yes | Not available on Honey Network & Show Site homepages |
| Nine O&O articles | Yes | |
| Nine O&O galleries | No | |
| MSN homepages | No | |
Important Information
The use of third party monitoring or blocking must adhere to Nine's Brand Safety Policy.
All concepts/storyboards must be submitted at least 10 working days before the campaign live date.
All images and content are appropriate to the general audience nature of the page.
The ad cannot not alter the Nine Digital brand, or alters the page layout, navigation, design or content.
The ad cannot try to launch in a new browser window (pop up/pop under) or shake the browser window.
Minimise the CPU load for the user as much as possible – ads causing excessive load will be rejected.
All creatives are subject to Nine Digital approval we reserve the right to request changes for brand equity/user experience reasons.
Acceptance Policy
Nine Digital may at its absolute discretion refuse to publish any advertisement on the Nine Digital network.
Nine Digital reserves the right to reject / remove any rich media ad that does not meet its creative specifications, contravenes internal guidelines or adversely affects network website performance, other ad placements or user experience.
Nine Digital reserves the right to remove or request the removal / revision of any creative that is deemed unsuitable or in conflict with our content, audience, commercial objectives or IP, including (but not limited to) requesting the removal of any competitor branding from advertisements.
Timelines & Delivery
All 3rd party creative should be delivered to Nine Digital via 3rd party ad serving tags.
All Nine Digital served creative should be delivered to Nine Digital as raw image assets (in zip file preferred). Impression and click tracking URLs should be supplied in a separate text file.
All material must be delivered at least five (5) working days prior to campaign launch to ensure technical compatibility and internal concept approval.
If creative is late an estimated % of impressions equivalent to the forecasted daily inventory level will be cancelled from the total impressions booked.
Reach out to the third party vendors listed above for full technical documentation, build guides etc.